End of Year Sale

All Christmas fabric, kits, and patterns...
40% off.

Kit sale…20% off a Limited number of Cuppa Tea original kits! Here are a few of them...
Balloon Festival
featuring the stunning colorful panel from
Sue Penn.
Two kits left…$90.
One kit left featuring the
Alpine Ski line from StudioE
Chain Reaction from Charisma Horton
featuring solids and blenders…four kits left.
Bliss…a pre-cut laser kit featuring
Island Batiks
Shortie…two kits to choose from,
solids or batiks!
Kaleidoscope kit featuring
In the Beginning fabrics
Sweater Weather…
your choice of blue or green!
These kits are only $70
Winter Mountains…
featuring Hoffman and Majestic batiks.
Rapture featuring FreeSpirit fabrics…
hurry only one kit left, $40!
Celebration kit in pink and black batiks
from Hoffman fabrics…only one kit remaining!
FreeSpirit Oasis kits…a beachy dream quilt!

Sunset Garden from Sue Penn and
FreeSpirit fabrics…two kits left!
These go great with the Peacock panel!
---

One last class...

WELCOME HOME by Anna Marie Horner
one kit left! Sew along on January 26.

Kit is $290 which contains 18 yards of
stunning FreeSpirit floral fabric
————————————————————————-


UPCOMING PROGRAMS AT CUPPA TEA



We need a BOM project to use the newest
William Morris fabrics…
what do you think of these beauties?
Stop by the shop and let Teresa know which one you like best! Maybe we should make both!
It's called Stellar Starburst by Quilt Moments




——————-————————————————
New Classes at Cuppa Tea Quilting

January 17…Sewing Machine Caddy…with Lisa

The perfect accessory to bring to classes or
have one set up at your home sewing station!

Patchwork Duffle by Kayla...
January 20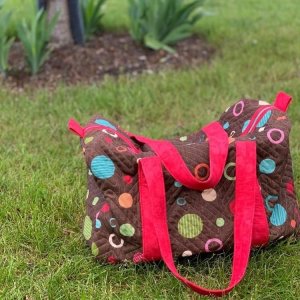 Choose one fabric like in the sample or make a patchwork version…maybe a great project to use some of those orphan blocks?
Nellie Blouse with Linda...January 24

Learn how to make your own blouse using rayon or cotton...
its so simple even Teresa made one and made her
sleeves a bit longer! Linda shows you how easy it is to customize it!


---
UPCOMING OPEN SEWS…one every week!
January 5, 13, 16 & 25
10am-4pm
SIP & RIP… January 27
10am-7pm
COME AND HAVE A CUP OF TEA WHILE YOU
WORK ON YOUR OWN PROJECT...bring your sewing machine
and whatever you want to work on.
There will be an instructor available to help if needed.
Plan on lots of giggles and fellowship with some wonderful ladies!
UPCOMING CLASS:

Brooke's Bag…February 21
Darlene is perfecting the Brooke's Bag. The bag is great, the pattern not so much. Therefore we need her help!




ONE BLOCK WONDER…January 9…Ann will once again teach this fabulous one of a kind project using seven panels or six fabric repeats. Check out the video below for an introduction on how to select your fabric.
One Block Wonder video

All classes are $25 and will require a sewing machine and supplies. You may rent one of the shop machines for $10 per class. A supply list will be available when you sign up or it will be emailed to you for each individual class.

All supplies and patterns for any class
are always 15% off!


---
Current Shop Hours
Monday through Friday 10-4pm
Saturday 10-2pm


Please check us out on Facebook, Instagram and our website www.cuppateaquilting.com