SEW MUCH New Fabric!

Christmas Fabric from Stof "Star Sprinkle"

A hint of gold metallic in all the prints...simply stunning!

Lots of Hoffman bench pillow patterns!
Blue Escape by Laundry Basket
Alpine Ski from StudioE
---
UPCOMING PROGRAMS AT CUPPA TEA
SWEET PEA Sew-a-long…
November 15, December 20
This is a $5 per class event. This gorgeous project has three different settings to choose from using fat quarters
and background fabric. Several of us are using fabric from the Practical Magic Line…but you may choose any scrappy fabric of your choice.
Join in anytime!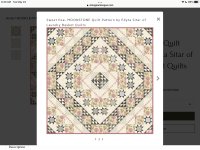 WELCOME HOME…Anna Marie Horner...
November 10 & 22.
Kit is $290 which contains 18 yards of
stunning FreeSpirit floral fabric
(you may split up to make two payments of $145 each)
There are only two kits left!
Linda R. will teach us this sampler quilt.


GODDESS TOOL…MUSE BOM
If you saw my demo at the WSQ show…now is your chance to learn how to use the awesome tool called the Goddess Tool. We will be creating Muse, a three month project. December 14, January 11, February 15…just pick four fabrics and join us for this fabulous project!


---
UPCOMING OPEN SEWS
Now on Wednesday evenings too!
November 2…4-8pm
November 7…10:30-4pm
November 9…4-8pm
November 16…4-8pm
November 18...10:30-7...sip & rip!
November 30…4-8pm

COME AND HAVE A CUP OF TEA WHILE YOU
WORK ON YOUR OWN PROJECT...bring your sewing machine
and whatever you want to work on.
There will be an instructor available to help if needed.
Plan on lots of giggles and fellowship with some wonderful ladies!
CLASS FOCUS:
Repeat Class...Chenille panel class with Debbie on November 11! Come in the shop to view two of the samples made from students in the first class!

Sign up for the Brooke's Bag class with Darlene on November 16.




ONE BLOCK WONDER…December 7…Ann will once again teach this fabulous one of a kind project using seven panels or six fabric repeats. Check out the video below for an introduction on how to select your fabric.
One Block Wonder video

All classes are $20 and will require a sewing machine and supplies. You may rent one of the shop machines for $10 per class. A supply list will be available when you sign up or it will be emailed to you for each individual class.

All supplies and patterns for any class are always 15% off!


---
We are considering changing our shop hours. Currently the Shop Hours are
Monday through Friday 10-4pm
Saturday 10-2pm

Would you like some evening hours?
Maybe on a Wednesday?

We will give it a shot and see who shows up!
We will open the classroom up for open sews or classes for those who work during the day.
Beginning November 9th, we will be open from 10-8. We will consider closing on Saturdays in January…that has been our slowest sales day. Stop by the shop and give me your opinion!

Please check us out on Facebook, Instagram and our website www.cuppateaquilting.com