Happy Fall Y'all!

Sorry this is a bit late...I started this newsletter about a week ago...but hit a wrong button and it all got erased...so here we go to round two!
XXXXXXXXXXXXXXXXXXXXXXXXXXXXXXXXXXXXXXXXXXXX

PROGRAMS AT CUPPA TEA
Month ten of our Aurifil Color Builder Subscription Program transports us to the coastal Italian town of Amalfi, a destination simply made for big screen romance. Picture this... Wind whips through your hair as your '63 Alfa Romeo speeds along the edge of the Mediterranean coastline. The brightly colored houses look like an impressionist painting, highlighted by blue skies and twinkling sunlight. A burst of color catches your eye and you pull over to admire the Bougainvillea, its beauty accentuated by the soft hum of bumblebees.
The Amalfi Color Builder features 3 shades of 50wt thread in 2562, 2520, and 2545… a tribute to stunning florals
along the Italian coast.
XXXXXXXXXXXXXXXXXXXXXXXXXXXXXXXXXXXXXXXXXXXX

OCTOBER class schedule
OCTOBER 9 & 16...ONE BLOCK WONDER...10-4

Just three spots remain. You need seven panels for this project, or one panel and six repeats of a coordinating fabric. Check out the informational video on the Cuppa Tea Quilting Facebook page for more information on what to select for your quilt.

This is Debbie's quilt from the September class. Don't mind the editing circles...we were playing around with the design!
New panels in the shop include a digital fall themed barn, a colorful cityscape, a herd of horses, and some butterflies..remember all class supplies are 15% off!



OCTOBER 12...PAJAMA PANTS CLASS...10-4


Class includes a free pattern, you just have to trace it.
Lots of new flannels and minky in the shop to make something soft and cozy for yourself or a gift.

OCTOBER 20...TAPESTRY SKIRT CLASS...10-2
Use one of my abstract tapestries in the shop to make an adorable skirt! Come and see the green skirt hanging
in the shop!
Special price for students...$20 each tapestry...
regularly priced at $25.

OCTOBER 28...CRAZY QUILT CLASS...10-2
Bring in ten 14" squares of fabric to create a timeless crazy block. You will use the accuquilt cutter for exact cutting and easy piecing! See the sample in the cozy room in the shop.
(Where all the flannel and minky live!)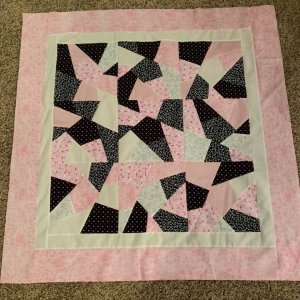 All classes are $20 and will require a sewing machine and supplies. You may rent one of the shop machines for $10 per class. A supply list will be emailed to you for each individual class.


XXXXXXXXXXXXXXXXXXXXXXXXXXXXXXXXXXXXXXXXXXXX

JANUARY BOM

MORRIS MEDLEY QUILT


Six spots remain to be a lucky recipient of the grab bag!

XXXXXXXXXXXXXXXXXXXXXXXXXXXXXXXXXXXXXXXXXXXX

Lots of new fabric coming in everyday!

Tula Pink Linework should be here by the end of October!

XXXXXXXXXXXXXXXXXXXXXXXXXXXXXXXXXXXXXXXXXXXX



FALL Shop Hours
Monday through Thursday 10-4pm
Friday 12-6
Saturday 10-2pm

Please check us out on Facebook, Instagram and our website www.cuppateaquilting.com
Happy Quilting!
Teresa