It looks like Idaho is getting our businesses back up and running! There will be some new guidelines that will be in play...
this will probably become the new norm for awhile!

I ask (when possible) that no more than five shoppers be in the retail section of the shop at one time. All shoppers should wear a mask and either use hand sanitizer or immediately go and wash your hands in the restroom upon arrival. The class room area will have limited class sizes to five people per class. This will give each person their own 8ft table and an iron nearby to work from.

There are some wonderful hand made ironing boards that our own Ann W. and her husband Mark made that are for sale in the shop.
Perfect for classes is the 12"x24" table with the adjustable
free-standing leg. These tables are fabulous for setting up next to your work area to alleviate the need to travel around the room.

The cutting tables and all work areas will be sanitized with ONGUARD before your arrival and on your departure. I want to create an environment where we all feel safe to come and sew at a safe social distance from our friends! I have missed you all so much, and we all know sewing and quilting is good for all our souls!

Enough housecleaning...let's see what's new at Cuppa Tea...

Month five of our Aurifil Color Builder Subscription Program transports us to a bright and beautiful day on the
incomparable pink sand beaches of Sardinia.
These days, such a day has taken over our daydreams...
The Spiaggia Rosa sparkles and glistens in the Summer sun.
Waves lap at the shore while your feet slowly sink deeper into the pink sand. You stand, perfectly still, a light breeze brushing your skin. You look out over the sprawling turquoise of the Mediterranean Sea, taking in the subtle scents of the flowering Mirto plants in the distance. Can you picture it? Can you feel your toes in the sand? We're counting down the days until such a visit
might again be possible!

The Sardinia Color Builder features 3 shades of 50wt thread in
2410, 2425, 2530… a tribute to beauty and the romance
of a beautiful summer day.





INVENTORY REDUCTION SALE...COMING UP MAY 4-8, 2020
Go to my website and look for this icon
for all the special prices...many are at my cost! Fabric, books, patterns, splash fabric samples, and many more!
Special gift included with each order.
You may choose curbside delivery or I can ship it to you!
www.cuppateaquilting.com


<>
"A Gathering"...by Barbara Persing


Isn't this the most adorable quail quilt that you have ever seen?
You have two ways to participate in this program, purchase the pattern for $30, or purchase the kit. The kit is $280 for the laser-cut pre-fused applique pieces. Just iron on the batik pieces to your background! The good thing is that you don't have
to pay all at once for the kit...it's a $50 sign up fee then it's just
$33 per month for seven months.
Each month you will receive the pre-fused, laser cut applique shapes in gorgeous Island batik fabrics that are original designs from Barbara herself! Check out the shop sample in the tea room!
I purchased a few extra patterns, so it's not too late to join in!


<<>><<>><<>><<>><<>><<>
Just eight Kids Fish Kits available!!
Running out of things to do with the kids while they are at home...How about a fusible fish applique project?
The kit includes the pattern, all the fusible batik fabric, and
fat quarter for the background.
Your choice of newsprint, dark blue or medium blue.
This fish was made by Kenny, my 12 year old! It will make a cute bench pillow for my window seat or maybe a father's day gift!
Just $20...



<<>><<>><<>><<>><<>><<>

May is month five of the murder mystery quilt!


Become a member of the Murder and Mayhem Murder Mystery Quilts community!
Every chapter of the original murder mystery and each block of the quilt holds clues to the identity of the murderer. At the end of the BOM, you'll make new friends, read an original murder mystery and make a gorgeous quilt!
Check out the block samples in the classroom for the first four blocks.

<< CLASSES ARE RESUMING >>


FRIDAY, May 8...Diva Wallet class...10 am - 3pm. $20 plus pattern and clasp. Bring your sewing machine and supplies, two fat quarters of Contrasting fabric and the tiniest screw driver you can find!
You will also need a small zipper to create the
change purse section of your wallet.

SATURDAY, MAY 16...LAZY ANGLE BLOCK #4...2pm-4pm $5.
Use the Creative Grids Lazy Angle ruler to create a stunning block.
See the tearoom for sample blocks.


THURSDAY, MAY 21...MORNING STAR BLOCK CLASS 10am-2pm. $20
Kits are available for either a TABLE RUNNER PROJECT ($40) OR FOR THE 18 BLOCK QUILT ($100). CHECK OUT THE RED/WHITE/BLACK QUILT IN THE SHOP WINDOW... Learn how to sew the block together from these pre-cut pieces and you choose your project!

Choose two or three fabrics for the star block and one color for the setting triangles and I will kit it up for you!
This runner was completed by student extraodinaire, Kathy H.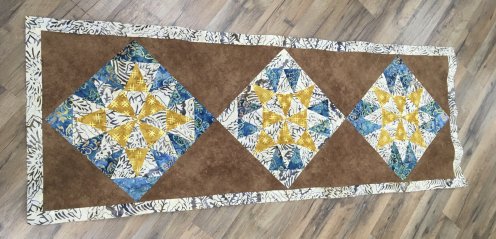 this quilt is made from the same block as the table runner...




THURSDAY, MAY 28 AND THURSDAY, JUNE 11...
Judy Niemeyer One Leaf (PAPER PIECING):
two session class...$20 each session
...10am-1pm


Linda is a local experienced quilter and teacher. She is currently teaching classes at Bear Paw and Auntie Linda's quilt shops.
You will receive a supply list when you sign up and pay for the class.


ALL TOGETHER ZIPPER BAG: $20...JUNE date to be determined.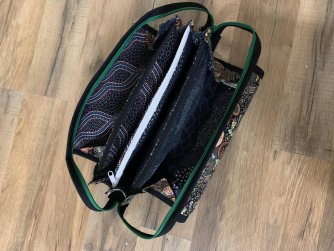 Fun, easy bag made with five fat quarters. You will be an expert on zipper construction because this bag has four zippers! Wonderful compact bag to carry all your tools for classes and open sews, or make one as a gift for a great travel bag for shower and makeup supplies! Pattern included in this class. Sample made from our Australian fabrics currently in stock in the shop!

<<>><<>><<>><<>><<>><<>

NEW BEGINNER CLASS


Surprise Nine Patch beginner class. $120 or $20 per session.
I have had lots of interest in learning how to make a quilt from start to finish. This will be a six part class with homework to be completed in-between classes! You must pre-register for each class.

Session one: One on one with Teresa...
Selecting your four fabrics and using the AccuQuilt cutter.

Session two: $20...Tuesday, May 19; 10am-1pm.
Assembling the nine patch blocks.

Session three: $20...Tuesday, May 26; 10am-1pm.
Cutting up the nine patch blocks, sewing the rows.

Session four: $20...Tuesday, June 9. 10am-1pm.
Assembling the sashing and the entire quilt.

Session five: $40 - $50... two hour quilting session with Teresa.
Quilting your beauty on one of the long arm machines!

Session six: $20...Tuesday, June 30, 10am-1pm..
Putting on the binding by machine and by hand.

Once the class is complete, you will have created
your own quilt from start to finish!
Sign up now to add your name to the list of students!

<<>><<>><<>><<>><<>><<>

ROW BY ROW HAS CHANGED ITS NAME TO QUILTER'S TREK!


THE EXPERIENCE BEGINS ON JUNE 21...NEW RULES AND COLOR THEME THIS YEAR...ask me for a sneak peek at my block! Check out the facebook page or stay tuned next month for more details.

<<>><<>><<>><<>><<>><<>

ASG SPRING SHOP HOP HAS BEEN CHANGED TO JULY 13-27

>>> NEW SHOP HOURS:<<<
Monday-Friday: 12-5pm
Saturdays: 10am-2pm
Rental appointments are one at a time in the shop


I wanted to thank each and every one of you who has supported me by shopping via the website,
curbside, or window shopping.
I've even had a facetime shopping experience!

Thank you for supporting
Cuppa Tea Quilting,
Teresa

Come and visit us at:
5609 US Hwy 2, Priest River, ID 83856
509-589-1350
www.CuppaTeaQuilting.com