Skip Navigation
Website Accessibility
April 2020 Newsletter
Happy April!!

Well quilters...we survived March! How crazy is life right now? Thank God we can all sew and take part in a little bit of our own therapy, whether it is sewing masks,
participating in a sew along online, or completing UFOs...
sewing will get us through, I promise!

Speaking of masks...Our very own Michelle Rorher
has been working with the Newport Hospital to come up with
a clear concise pattern for making masks for the community.




Thanks, Michelle for such clear easy to follow directions. I still have one bolt remaining of the polypropelene material that the fire stations purchased. Stop by the shop to pick up a kit to make about 20 masks...keep a couple for yourself and your family, then turn the rest back into the shop. We have donated 290 so far to to the Newport Hospital, the Spokane fire stations, and the West Pend Oreille fire department. The hospital prefers the pattern that will cover the N95 masks with ties. That free pattern can be found at https://eunoiapatterns.com/product-category/freebies/. Look for the Free download for the 'better together' mask. These will be re-used and washed to prolong the life of the medical masks.
If you know of a need in our community, please let me know
and we will do our best to get them some masks.
Pretty soon it will become a law that every citizen
must wear a mask in public!


The April AURIFIL COLOR BUILDERS CLUB will be arriving on April 13. This month is a gorgeous trio of browns and tans. Everyone needs those colors in their arsenal!


<<>><<

NEW BLOCK OF THE MONTH

>><<
"A Gathering"...by Barbara Persing


This is the most adorable quail quilt you have ever seen!
You have two ways to participate in this program, purchase the pattern for $30, or purchase the kit. The kit is $280 for the laser-cut pre-fused applique pieces. Just iron on the batik pieces to your background! The good thing is that you don't have to pay all at once for the kit...
it's a $50 sign up fee now through April 30. Then it's just $33 per month
that will start in MAY and run through November.
Each month you will receive the pre-fused, laser cut applique shapes in gorgeous Island batik fabrics that are original designs from Barbara herself! Check out the shop sample in the tea room!


<<>><<>><<>><<>><<>><<>
Kids Fish Kits are now available!!
Running out of things to do with the kids while they are at home...How about a fusible fish applique project?
The kit includes the pattern, all the fusible batik fabric, and
fat quarter for the background.
Your choice of newsprint, dark blue or medium blue.
This fish was made by Kenny, my 12 year old! It will make a cute bench pillow for my window seat or maybe a father's day gift!
Just $20...first 15 kits are ready to go!

<<>>
<<>>
<<>>
<<>>
<<>>
<<>
April is month four of the murder mystery quilt!

Become a member of the Murder and Mayhem Murder Mystery Quilts community!
Every chapter
of the original murder mystery and each block of the quilt holds clues to the identity of the murderer. At the end of the BOM, you'll
make new friends, read an original murder mystery and make a gorgeous quilt!
Check out the block samples in the classroom for the first three blocks.


<<>>

Due to the pandemic...
classes have been postponed<<>>
The beginner class tried the Zoom app last week, and it was a success! You can still participate if you are a beginner quilter. The class will take you through cutting with the AccuQuilt cutter, making a nine-patch block, sashing, quilting, and binding!


Kits are available for the MORNING STAR TABLE RUNNER: $40

Choose two or three fabrics for the star block and one color for the setting triangles and I will kit it up for you!
This runner was completed by student extraodinaire, Kathy H.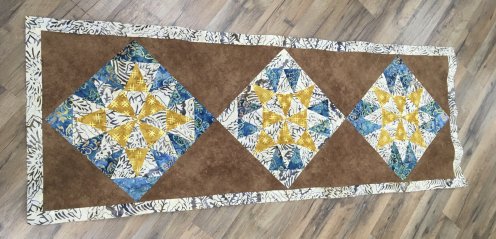 Judy Niemeyer One Leaf (PAPER PIECING):
This will be postponed until May...two session class...
$20 each session

Linda is a local experienced quilter and teacher. She is currently teaching classes at Bear Paw and Auntie Linda's quilt shops.
You will receive a supply list when you sign up and pay for the class.

LAZY ANGLE Club: Block Three
Saturday, April 18.
I will post a video for class number three on our facebook group page. Go to the groups tab and look for Lazy Angle Gals. Send me a request to join and I will give you access. Each meeting will be $5.
Sample blocks are on display in the Tea Room.


ALL TOGETHER ZIPPER BAG: $20...date to be determined.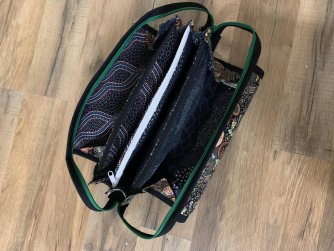 Fun, easy bag made with five fat quarters. You will be an expert on zipper construction because this bag has four zippers! Wonderful compact bag to carry all your tools for classes and open sews, or make one as a gift for a great travel bag for shower and makeup supplies! Pattern included in this class. Sample made from our Australian fabrics currently in stock in the shop!



<<>>

<<>><<>><<>><<>><<>

NEW BEGINNER CLASS


Surprise Nine Patch beginner class. $120 or $20 per session.
I have had lots of interest in learning how to make a quilt from start to finish. This will be a six part class with homework to be completed in-between classes! You must pre-register for each class.

We had our first class via the Zoom app. If you missed our meet and greet session or would like to join us...send me a message.
You will receive an email with an invitation to join our next meeting on April 14 at 2pm.



Session one

: One on one with Teresa...
Selecting your four fabrics and using the AccuQuilt cutter.
Session two: $20...Tuesday, March 31; met via Zoom.
Assembling the nine patch blocks.

Session three: $20...Tuesday, April 14; 2pm via Zoom.
Cutting up the nine patch blocks, sewing the rows.

Session four: $20...Tuesday, April 28; 2pm via Zoom.


Assembling the sashing and the entire quilt.



Session five: $40 - $50... two hour quilting session with Teresa.
Quilting your beauty on one of the long arm machines!

Session six: $20...Tuesday, May 19; 1-3.
Putting on the binding by machine and by hand.

Once the class is complete, you will have created
your own quilt from start to finish!
Sign up now to add your name to the list of students!

<<>><<>><<>><<>><<>><<>

ASG SPRING SHOP HOP HAS BEEN CHANGED TO JULY 13-27



>>>SPRING SHOP HOURS:<<<


Monday, Wednesday & Friday: 12-3pm
Quilting appointments are one at a time in the shop


I wanted to thank each and every one of you who has supported me by shopping via the website,
curbside, or window shopping.
I've even had a facetime shopping experience!
Thank you all...we will get through this...and need more fabric to replenish our stash that we have used up making masks!


I love you all!





Thank you for supporting




Cuppa Tea Quilting,




Teresa



Come and visit us at:
5609 US Hwy 2, Priest River, ID 83856
509-589-1350
www.CuppaTeaQuilting.com