Happy March!!
LOTS OF INFO IN THIS NEWSLETTER...LET'S DIVE RIGHT IN...

AURIFIL COLOR BUILDERS CLUB

Month three of the Aurifil Color Builders brings us to the

Dolomites

, a mountain range located in Northeastern Italy. With over 40 major peaks, they are renowned worldwide for their majesty, and are a destination for skiing, mountain climbing, hiking, and hang gliding. Surrounding the mountain range are lush Alpine meadows, boasting various shades of rich green hues, stretching to the deep tones of the evergreens beyond. Lago di Braies, the great lake nestled deep in the mountains, sparkles in the distance, sharing a dazzling display of colors that shifts from emerald to sapphire. The Dolomite Color Builder features 3 shades of 50wt thread in 2908, 1147, and 2890… a tribute this magical Italian gem.


Members of the club receive a FREE monthly BOM that includes fabric and the pattern to coordinate with the color of the month!
This group will get together to work on the block on Thursday, March 26 from 2-4pm.

<<>><<

NEW BLOCK OF THE MONTH

>><<
"A Gathering"...by Barbara Persing


This is the most adorable quail quilt you have ever seen!
$50 sign up fee now through April 15.
$33 per month for the seven month program that will start in MAY.
Each month you will receive the pre-fused, laser cut applique shapes in gorgeous Island batik fabrics that are original designs from Barbara herself! Check out the shop sample in the tea room!
You can also purchase just the pattern for $30 if you would like to use your own fabrics.

<<>><<>><<>><<>><<>><<>


Area Guild News...
The Priest River Group...Sew What?

Business meeting will be on Monday, March 2 at 11am
This is the last day to turn in your dog or cat blocks...the group will soon start assembling the blocks to create two separate quilts for the Priest River Animal Shelter. The group is also creating items to sell in the shop to raise money for fabric and batting needs. A donation was recently made of DMC floss for crochet. They are currently on sale in the team room, buy one get one free. All proceeds go to the guild.

This group meets every Monday from 10:30-2 at Cuppa Tea Quilting.
Fat Quarter Quilters in Deer Park
.
The group recently had a demonstration on executing
those scary "Y" seams! Their business meeting is held on the second Tuesday of each month at 11am.

This group meets every Tuesday at 10:30 at the Faith Lutheran Church in Deer Park.
Panhandlers Quilt Guild in
Sandpoint.
The group is hosting a
QOV
Mystery Class
on March 10 at 9am. $10 members/$20 non-members, includes lunch and pattern. Early sign up is needed due to cutting and sewing clue #1 prior to class. Call Linda to register, 208-610-3073.
This group meets at the First Lutheran Church at 526 S. Olive in Sandpoint.
<<>>
<<>>
<<>>
<<>>
<<>>
<<>
Interested in a Murder Mystery BOM?

Become a member of the Murder and Mayhem Murder Mystery Quilts community!
Every chapter
of the original murder mystery and each block of the quilt holds clues to the identity of the murderer. At the end of the BOM, you'll
make new friends, read an original murder mystery and make a gorgeous quilt!

We started this fun adventure in January...so you are not too far behind if you would like to join in on the fun. Just send an email to Teresa@cuppateaquilting.com and the info will be on its way to you.

Our next sit and sew for Month Three will be on Wednesday, March 18.

This is an open sew format, so show up anytime between 11-3!



<<>>< MARCH classes:<<>>
All classes are $20 plus supplies unless indicated differently.
Class supplies purchased are now 15% off!

MORNING STAR TABLE RUNNER: $20: Monday, Mar. 9...3-6pm.


Choose two fabrics for the star block and one color for the setting triangles. Learn how to place a block on point and create a
three or five block table runner.

KIDS FISH CLASS: $30...Friday, March 13 : 4-6pm


A great class to get your kids/grandkids involved in quilting!
This is a no-sew class...but bring some fabric scissors!
All supplies included and we will order out for some pizza!

Judy Niemeyer One Leaf (PAPER PIECING):
Thursday, March 19 and April 23: $20 each session... : 10am-1pm


Linda is a local experienced quilter and teacher. She is currently teaching classes at Bear Paw and Auntie Linda's quilt shops.
You will receive a supply list when you sign up and pay for the class.

LAZY ANGLE Club: Block Two & Three
Saturday, March. 21: 12-4pm.
Since we had to push our #2 class from February, we will meet a bit earlier to get two blocks finished. This will be a monthly group meeting on the third Saturday of the Month that uses the Lazy Angle Ruler. Each meeting will be $5.
Sample blocks are on display in the Tea Room and in the bathroom hallway.


ALL TOGETHER ZIPPER BAG: $20...Friday, March 27: 10am-4pm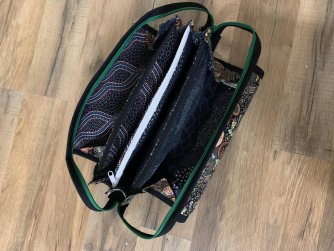 Fun, easy bag made with five fat quarters. You will be an expert on zipper construction because this bag has four zippers! Wonderful compact bag to carry all your tools for classes and open sews, or make one as a gift for a great travel bag for shower and makeup supplies! Pattern included in this class. Sample made from our Australian fabrics currently in stock in the shop!

AURIFIL COLOR BUILDERS BOM: Thursday, March 26: 2-4pm.
This is a free BOM for the members of the thread club...bring your sewing gear and your new thread!
There are still a few folks that need to pick up their February batch of red thread and your BOM kit.
There are five kits left for purchase in the shop if you would like to join in...$39 per month.

ASTERIA BLOCK 8: Monday, March 30 : 12-2pm
You did it girls...this is the final month of the Asteria quilt project!



<<>>

<<>><<>><<>><<>><<>

NEW BEGINNER CLASS


Surprise Nine Patch beginner class. $120 or pay per session.
I have had lots of interest in learning how to make a quilt from start to finish. This will be a six part class with homework to be completed in-between classes! You must pre-register for each class.



Session one

: One on one with Teresa...
Selecting your four fabrics and using the AccuQuilt cutter.
Session two: $20...Tuesday, March 31; 1-3 or 3-5pm.
Assembling the nine patch blocks.
Session three: $20...Tuesday, April 14; 1-3 or 3-5pm.
Cutting up the nine patch blocks, sewing the rows.
Session four: $20...Tuesday, April 28; 1-3 or 3-5pm.


Assembling the sashing and the entire quilt.


Session five: $40 - $50... two hour quilting session with Teresa.
Quilting your beauty on one of the long arm machines!
Session six: $20...Tuesday, May 19; 1-3 or 3-5pm.
Putting on the binding by machine and by hand.

Once the class is complete, you will have created your own quilt from start to finish! Sign up now to add your name to the list of students! Two sessions to choose from...1-3 or 3-5pm.

<<>><<>><<>><<>><<>><<>

ASG SPRING SHOP HOP IS COMING SOON...APRIL 16-19




SPRING SHOP HOURS:




Monday, Wed, Thursday, & Friday: 10-4pm




Tuesday: 1-5pm




Saturday: 10-2pm




Come and visit us at:
5609 US Hwy 2, Priest River, ID 83856
509-589-1350
www.CuppaTeaQuilting.com

Thank you for supporting


Cuppa Tea Quilting,




Teresa