January Newsletter
Newsletter No. 3

Welcome 2019!
I hope everyone had a wonderful holiday season and a fabulous start to the New Year!

Cuppa Tea Quilting has some new fabric, new tools, and new classes for
January and February...

Our Free Block Lottery has a heart block this month! Stop in to receive your free pattern or check out the CuppaTea facebook page to download a copy of the pattern. Remember, every block you turn in earns your name in the jar to possibly win all the blocks! Last month's winners were Ann Wilponen and Linda Henderson.
I can't wait to see their finished wonky tree quilts!
The Heart Block Drawing will be held on February 9.
As I did with the wonky trees, I will video tape the drawing and put it on Facebook!
Make sure you check out our Cuppa Tea Quilting Facebook page to see if you have won!




I just signed up for my first SOLO quilt show experience...I plan on bringing Lucey with Quilt Path and lots and lots of tapestries! The show will run from March 29-30.
See the flyer above for more information.
Check out the new Native American fabric...I simply love all the bright colors and geometric designs.
I sold three yards straight out of the box the day it arrived! I'm looking forward to adding more interesting fabrics to the shop!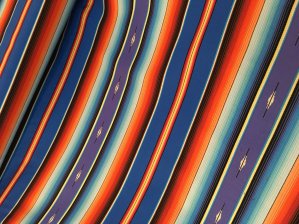 Saturday, February 2 is QOV NATIONAL SEW DAY!!

We will be open for anyone that wants to join us in either room. (Did I forget to mention that we have expanded into the next shop?) We will have room for about eight people to come and sew some patriotic blocks. Open sew is from 12-4, Saturday, Feb. 2. RSVP to Teresa if you would like to attend. Below is the link for the block that we will be making. Please copy it for yourself and bring the required red, white, and blue fabric. I will have a box of fabric to share if you don't have any patriotic colors.
I will be serving soup and biscuits. Feel free to bring a snack to share!
I will be collecting any blocks we make and giving them to our
own Newport QOV group!
2019 QOVF Block drive pattern

February also marks the start of the MUSE Block of the Month program.
I still have three books and rulers left if anyone wants to participate. It will be a three block series. Come and check out the shop sample I created in bright orange, pink, and green! I will be sending out a separate email to those 17 ladies who signed up. I still have a few of you that need your book and ruler. There are three choices of gatherings and a wine and cheese cocktail party in May for our top reveal! Can't wait!
We still have some Brown Bags at the shop! The bag costs $5 to become a member of our "Brown Bag Club", every time you use it, you receive 10% off the contents of the bag!! It's fun to see my bags out in the community...I even spotted one at a
Spokane Chiefs Hockey Game!!
New Winter Shop Hours


effective Monday, Jan. 14
Wednesday through Friday 10-4:30pm
Saturday 10-4pm
Mondays and Tuesdays by appointment
(reserved for classes, renters, and machine service calls!)

Happy Quilting!
Teresa